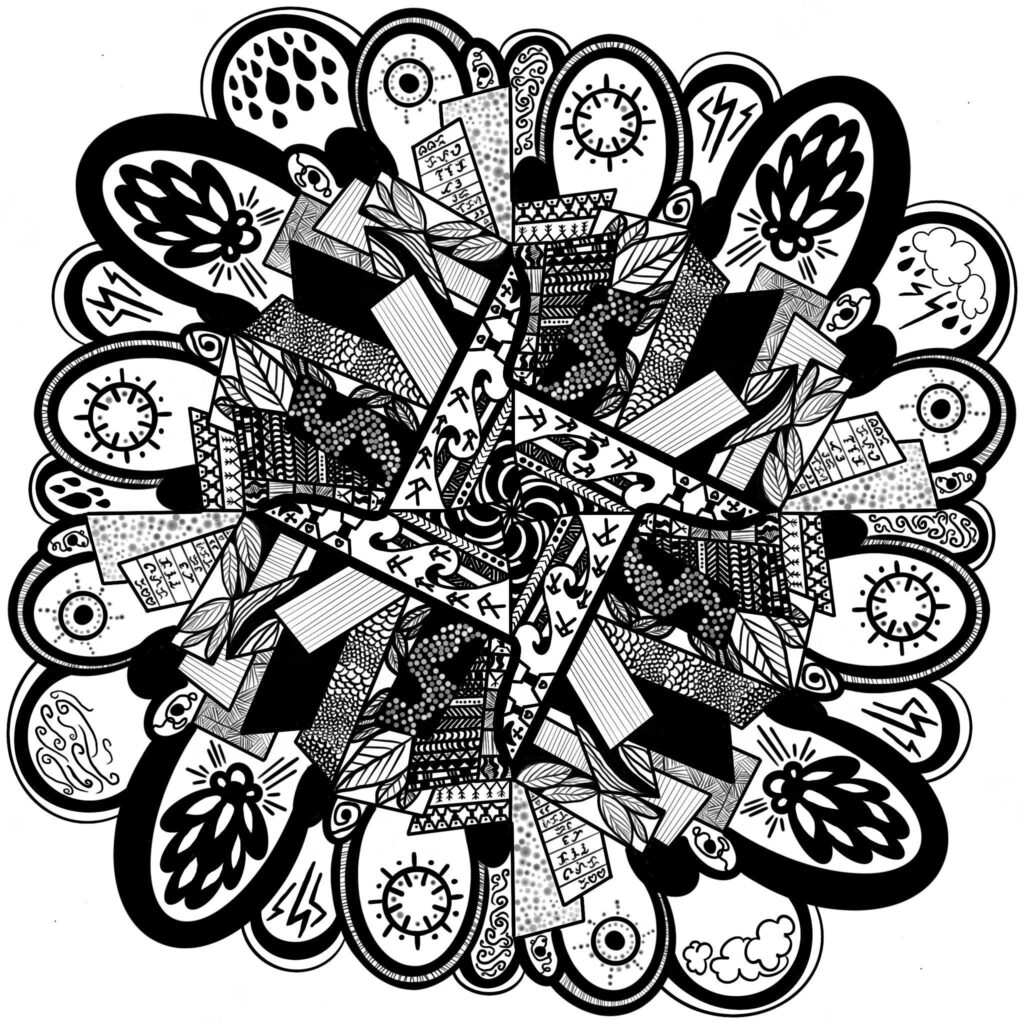 AL Caballes
Lenapehoking (New York, USA) — nearest ocean: Northern Atlantic
Indigenous / Native Heritage, Pacific Islander, Adult (31 - 49 years old)
About the art
A hand drawn digital image, this artwork is in part inspired by the late great Asian American revolutionary Grace Lee Boggs and her civil rights activist husband, Jimmy Boggs. The two visualized 3,000 years of human history with a 12 hour clock, where every minute represents 50 years. They imagined that revolution is only five minutes old. Grace lived to be a 100 years old and during the later years of her life, she encouraged young organizers to think about this model of time and "re-imagine spaces and institutions in which healthy relationships with people, nature and ourselves can be built -- by creating beloved communities."

What would it be like to be fully alive in the present?

How might we move in the world while grounding in our connections of the past, present and future generations of life?

What ways might we transform our relationships -- to ourself, each other and all living things?
About the artist
I am a Batangas-born, Los Angeles-raised and New York-seasoned Pilipina. I proudly claim all my homes from the coconut fields in the Philippine Islands to the streets of Historic Filipinotown along Beverly Boulevard and the 7 train lines running through Queens. I am home with people, in the places that have left an imprint in my heart and mind.

As a cultural worker, I have been shaped by organizing with im/migrant communities. I am a self-taught and movement forged artist. More than 20 years ago, I created my first graphic design of a flyer on a word processing application for a protest action in support of a labor trafficking survivor. My first silk screen t-shirt was done in my living room with a group of young adult Pilipinas/xs organizing to end the US war in Afghanistan, Iraq, Korea and the Philippines. With the same young adult activists, we wrote poetry, played songs and choreographed street theatre reenacting the plight of migrant workers and their families, the challenges of living in US imperialist society.

I never leave home without markers in my backpack. I am always excited to make posters and banners by hand and with a team of creative community folks. My current work engages poor and working class im/migrants to share our stories. I love collaborating with cultural workers, activists, organizers and everyday people to share our vision of the transforming the world.